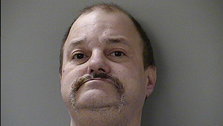 A white man accused of burning a black man alive in Tennessee earlier this year was a known white supremacist, an expert in extremism told HuffPost, and subscribed to a racist and anti-Semitic ideology known as Christian Identity. 
John Daniel Carothers, 53, stands accused in the March murder of 40-year-old Robert Miller at a house in Murfreesboro. Prosecutors said in court this month that authorities had recently intercepted a jailhouse letter Carothers wrote and sent to a white supremacist group. In the letter, Carothers confessed to the grisly murder and expressed white supremacist views, according to the prosecutors. 
"To my brothers and sisters in Jesus Christ our savior and Lord, My name is John D. Carothers and I believe the Bible is about white people and for white people," the handwritten letter said. "I am in Rutherford County jail for burning a black man. I set him on fire with lighter fluid poured on his head." 
Carla Hill, a senior investigative researcher at the Center on Extremism at the Anti-Defamation League, told HuffPost the letter was addressed to Kingdom Identity Ministries in Harrison, Akansas — the country's largest publisher of Christian Identity propaganda. Adherents of the Christian Identity movement believe white Europeans are the true Israelites; that Jews are the spawn of Satan; and that non-whites are sub-human "mud people."
Its twisted theology has been embraced by many white supremacist groups, and Christian Identity followers have been connected to multiple murders, shootings and bombings since the 1980s. 
Hill said she and other researchers have been aware of Carothers "for years." 
"He comes from a family that practices a particularly vitriolic brand of white supremacy that's explicitly very racist and anti-Semitic," Hill said.
"The fact that Carothers said the Bible is for white people is something a Christian Identity adherent would say," she added. 
Hill also pointed to Carothers' Facebook page, where he goes by the name Horst Fisher — a reference to Dr. Horst Fischer, the Nazi SS doctor tasked with deciding which Jews and other inmates lived and died at the concentration camp in Birkenau, Germany. 
Carothers' Facebook page is filled with white supremacist memes and pro-Nazi postings. His posts show him spewing hate against blacks, Muslims and Jews, and praising white supremacist leaders dead and alive, including Catholic priest Charles Coughlin and Matthew Heimbach. 
In 2009, Carothers, who also goes by the name "David Carothers," was reportedly spotted with his son passing out National Alliance pamphlets outside a gun show in Columbus, Georgia. The National Alliance was a genocidal neo-Nazi group that called for the eradication of Jews and non-whites from America. 
Carothers' son, Michael Weaver, was once named National Alliance's "activist of the year." In 2011, Weaver pleaded guilty to aggravated assault after pepper-spraying a black man in Columbus — an attack prosecutors said was motivated by hate. 
"He's Out! Free! Free At Last," Carothers wrote on his Facebook in January 2017, celebrating Weaver's release from prison. 
Details on Carothers' background comes amid a surge in violence linked to white supremacists across the U.S. White supremacists murdered twice as many people in 2017 as they did the year before, according to a report from the ADL, helping make the year the fifth deadliest for extremist violence in the nation since 1970. 
Carothers faces charges of first-degree murder, reckless endangerment and aggravated arson stemming from Miller's death. The alleged murder took place at a halfway home for veterans, where both Carothers and Miller had lived. 
Rutherford County District Attorney Jennings Jones told NewsChannel5 Monday that although Tennessee has no hate crime law, he may pursue a hate crime enhancement for Carothers' sentence if he is found guilty at trial.
CORRECTION: A previous version of this story misstated the location of Kingdom Identity Ministries. It is located in Arkansas, not Arizona. 
America does not do a good job of tracking incidents of hate and bias. We need your help to create a database of such incidents across the country, so we all know what's going on. Tell us your story.